One of the best known and most appreciated writers is Edgar Allan Poe, for his fantastic tales classified as of terror or also of gender Gothic, and for this reason it has been considered suspense master.
Edgar Allan Poe He was born in Boston, United States, on Sunday, January 19, 1809 according to the Gregorian calendar, second son of his parents David Poe, Jr. and Elizabeth Arnold Poe; was a Romantic writer, poet, critic and journalist Currently recognized for having left an unforgettable legacy in the writing of short stories, this type of writing was what made him known and becoming a space among the great writers of poetry and mainly one of the first practitioners in his country to write gothic novels.
He is considered a universal teacher for his horror stories and for being the inventor of the detective story, he even contributed greatly to the genre of science fiction which provided many texts to the world of literature.
On the other hand, he was the first renowned American writer who tried to make writing his modus vivendi and his doctrine, which led him to have unfortunate consequences in his future as a writer.
Edgar had two brothers, William Henry Leonard who was the oldest in the family and Rosalie Poe who was the youngest of the family, as for her parents, David Poe Jr. He was a law student, but years later he would defect in this faculty to become an actor, while his mother Elizabeth arnold She was an actress with an extensive repertoire and of great charm who would greatly influence the literature of her two sons.
David, Edgar's father was irascible and alcoholic, and severely criticized daily on stage, possibly for his stage fright. While his wife was often praised for her acting skills and considered a beautiful woman for her interesting figure and her sweet and melodious voice.
David left his wife and two children in July 1810, shortly after, in the absence of her husband Elizabeth gave birth to her third daughter by calling her Rosalie Poe. Which led Elizabeth to look for a babysitter so she could continue acting on stage. In 1811, while waiting at the Richmond boarding house where he was staying to perform at a function, Elizabeth began to spit blood.
From that moment on, he appeared less and less on stage, until, in October 1811, he stopped doing it completely. His last function was on October 1, 1811, playing Countess Wintersen, in a play called The Stranger . He finally died on Sunday, December 8, 1811 at the age of twenty-four years of tuberculosis, surrounded by his children.
After his death, his three children were separated. William Henry Leonard went to live with his paternal grandparents in Baltimore, Edgar was accepted by John and Frances Allan of Richmond, and Rosalie was adopted by William and Jane Scott Mackenzie, also of Richmond.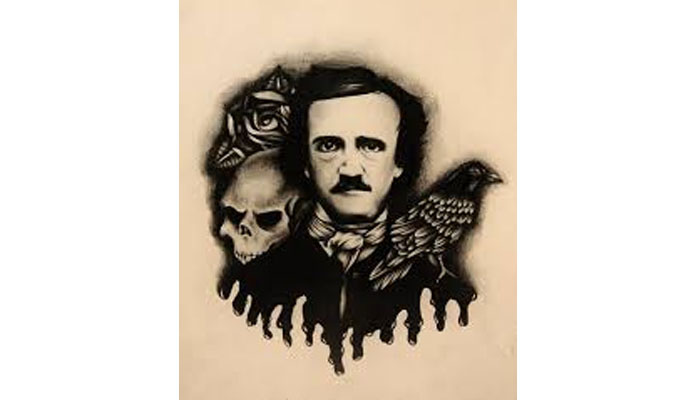 Some time later, Mrs. McKenzie, Rosalie's stepmother said that the babysitter gave little Edgar and Rosalie bread soaked in gin, believing that they would be healthy and strong, or in laudanum, when she wanted them to be calm. She believed that this infamous regimen was the origin of the nervous character and sensitivity to alcohol that both later presented as adults, more accused in Rosalie for having suffered from their first days of life. A simple glass of wine at dinner caused him a drowsiness from which he woke up with irritability, headache and depression that lasted for days, exactly the same symptoms that Edgar also suffered from a little alcohol.
The image of Edgar Allan Poe as morbid cultivator of horror literature It has sometimes hindered the fair appreciation of its literary significance. He was certainly the great teacher of the genre; he revalued and revitalized the story both from his theoretical writings and in his literary praxis, demonstrating that his expressive potential had nothing to envy the novel and giving the short story the dignity and prestige that it modernly possesses.
At the age of five he began his primary studies, but soon, the following year (1815), the Allan family traveled to England. The boy attended a school in Invine, Scotland (the town where John Allan, his stepfather was born), for a short period, but that was enough to put him in contact with the culture and old scottish folklore. Later the family moved to London in 1816. Edgar studied at a Chelsea boarding school until the summer of 1817. He later entered the school of Rev. John Bransby in Stoke Newington, which was then a suburb north of the city. There he learned to speak french and write in latin. From these experiences and from the contemplation of the landscapes and Gothic architectures of Great Britain, stories like William Wilson would be born years later.
The Scotsman, considerably worried about his unfortunate London businesses, returned with his family to Richmond in 1820. From 1821 to 1825, Edgar attended the best schools in the city, receiving the careful southern education corresponding to a Virginian gentleman: English Classical School, by John H. Clarke and the colleges of William Burke and Dr. Ray Thomas and his wife, where he meets the classics: Ovid, Virgil, Caesar, Homer, Horace, Cicero. Outside class hours, since childhood he liked to spend time leafing through the English magazines he found in his stepfather's stores; there also captivated his imagination the seafaring legends told by sailboat captains who approached Richmond. Some of these legends would inspire one of his fundamental works: The story of Arthur Gordon Pym.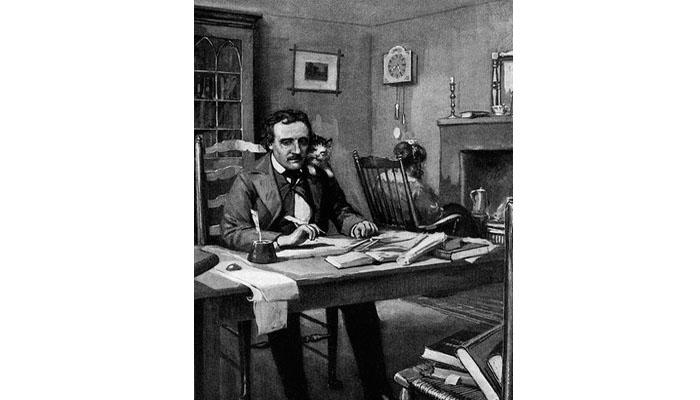 Poe continued studying and attended the University of Virginia, but finally left the university after a year and, not feeling at ease in Richmond, he moved, first to Norfolk, and in April 1827 to Boston, where there is dark evidence that he tried to make a living as a journalist and also had some work related to commerce. At this stage he used the pseudonym 'Henri Le Rennet'.
On May 27, 1827, unable to survive by himself, Poe enlisted in the army as a private, under the name of 'Edgar A. Perry'. Although he was 18, he signed that he was 22. His first destination was in Fort Independence, in the port of Boston. His salary was five dollars a month.
In that same year (1827) he published his first book, a forty-page poetry booklet that he titled Tamerlane and other poems By a Bostonian (By a Bostonian). In the prologue he affirmed that almost all the poems had been written before the age of fourteen. Only fifty copies were printed, and the book went virtually unnoticed.
Meanwhile, his regiment was destined to Fort Moultrie in Charleston, where he arrived on November 8, 1827 aboard the brig Waltham. Poe was promoted to an engineer, the soldier in charge of preparing the artillery shells, and who charged double pay.
After serving for two years and obtaining the rank of artillery sergeant major (the highest rank of noncommissioned officers), he tried to shorten his five years of enlistment, revealing his real name.
In 1829 his adoptive mother Frances Valentine Allan died with whom he had a great appreciation and respect. So he decides to travel to Baltimore to live with his aunt Maria Clemm, his cousin Virginia Eliza Clemm, his brother Henry, and his grandmother Elizabeth Cairnes Poe before enrolling in West Point. This same year he published his second book Al Aaraaf, Tamerlane and Minor Poems.
The book was not fully understood, and the author was generally frowned upon; However, the famous critic of the time John Neal had complimentary comments for him: He will be the first in the ranks of true poets.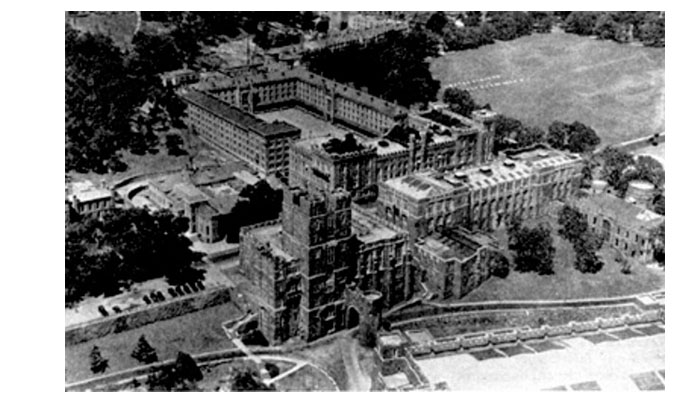 Enter the service at West Point, as a cadet in 1 de julio de 1830. The poet did not endure military discipline for a long time and caused him to judge a martial court. On February 8, 1831 he was accused of serious abandonment of service and disobedience of orders, which provided him with the expulsion from that military compound.
In February he left for New York, where he managed to edit a third book of poems, which he simply titled Poems. The publication was defrayed by his fellow West Point who donated money to publish the writing. They believed that the poems would be addressed to them in a matter of making fun of the commanding officers, which was a mistake since the work is merely romantic. The book appeared as Second Edition with the following dedication: This book is respectfully dedicated to the United States Cadet Corps. The book reissued the long poems Tamerlane y Al aaraaf, in addition to six unpublished poems, among which was the first version of To Helen, Israfe and The City in the Sea.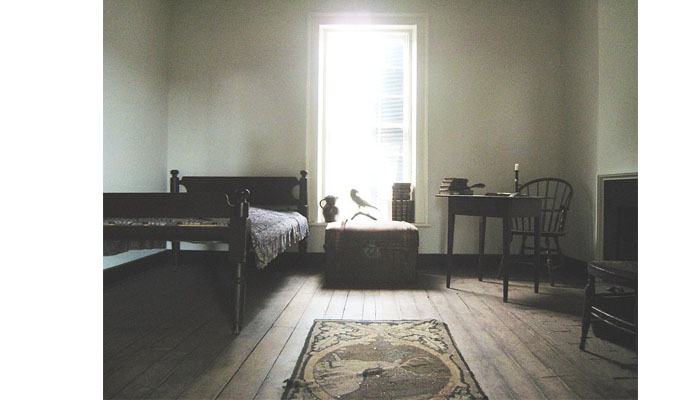 In March 1831 he returned to Baltimore where his older brother had been in poor health for some time, partly because of his progressive behavior to alcoholism and as a result he died on August 1, 1831. He finally settled in the attic he had shared with his brother where he worked on his writings with great comfort. Most of his writing focused on poetry that moved to the story, a more salable genre.
Poe wrote stories of different genres, poetry, literary criticism and essay, this one on the most varied topics, in addition to a long novel. Throughout his life he wrote numerous letters.
Article sent by Steven Mora C. To Wake Up Knowing.
Fuentes: