Stanley Martin Lieber, better known as 'Stan Lee', born on December 28 1922 In New York City, he is an American scriptwriter and editor of comics who has presented notable characters to the world for their complexity and realism. He is the co-creator, along with cartoonists like Steve Ditko o Jack Kirbyof superheroes like Fantastic Four, Spider-Man, Hulk, Iron Man, Daredevil, Doctor Strange, X-Men and many other characters, expanding Marvel Comics, taking it from a small advertising house to a large multimedia corporation. Still today, Marvel comics are distinguished by always indicating 'Stan Lee presents' in the presentation labels.
Stanley Martin Lieber was born on December 28 1922 in Manhattan, New York, son of Celia and Jack Lieber, a marriage of Romanian Jewish immigrants. His father was a tailor and had difficulties in his work due to the Great Depression. Stan had a younger brother named Larry Lieber. In 2006 He said he enjoyed books and movies, especially those starring Errol Flynn. He studied at the DeWitt Clinton Institute in the Bronx and in the meantime, he worked as a dump, writer of obituaries and press releases, until, at the end of 1940Shortly after finishing high school, he got an assistant job at the publishing house Timely Comics (today Marvel Comics) then owned by Martin Goodman (husband of his cousin). To the 20 years., debuted as a screenwriter with a two-page story starring the Captain America. His goal then was to become a writer at the height of his admired Robert Louis Stevenson, Arthur Conan Doyle o Edgar Rice Burroughs. Wanting to reserve his name for future novels, he signed this first job with the pseudonym «Stan Lee» (which, in English, sounds very similar to "Stanley"). Decades later, he officially changed his name, adopting the pseudonym by which he was already universally known. Sometimes it is also called "Stan the Man".
En 1960 Stan Lee was about to leave Marvel Comics, but his wife convinced him to create "the comic he wanted to do." And in 1961 success came to him, with the creation of 4 Fantásticos, but I still had many more stories to create. In a few years, he created together with Jack Kirby and Steve Ditko to the vast majority of the classic characters of the publishing house. This success made Marvel become the most important publisher of the moment, and marked the beginning of the so-called Silver Age of the American comic. Stan Lee remains for much of the sixties as chief editor of the nickname thereafter «House of Ideas», being succeeded by his assistant, R.
Tireless Marvel diffuser and emblem of an era and a way of making comics, Stan Lee did not stop writing occasional columns and scripts. Among them, the series of specials «Just Imagine Stan Lee ...» de 2001 for DC Comics, the main competitor of Marvel, where he recreated the main characters of his universe (Superman, Batman, Flash, among others).
Since the premiere UCMIn 2008, Stan Lee has been receiving symbolic tributes, as a cameo, in most of his films. Although, sometimes, his state of health and his advanced age, prevented him from moving to the shooting sets.
Got married with Joan Clayton Boocock el December 5 1947. His daughter Joan Celia "JC" Lee He was born in 1950. Another daughter, Jan, was born in 1953 and died three days of life. In 1981 the Lee moved to the west coast. After 69 years of marriage, in July 2017, his wife Joan dies of a stroke, at 93 years..
A year later, On November 12, 2018, Stan Lee dies of pneumonia at Cedars-Sinai Hospital in Los Angeles at the age of 95.
Among his creations include characters that are part of universal iconography as Spider-Man, the X-Men, Iron Man, Thor, Doctor Strange, Daredevil, The Fantastic Four, the incredible Hulk, the Avengers, Black Panther, Silver Surfer, and Nick Fury, in addition to its intrusion into the world of manga with Heroman and the script of the series Last.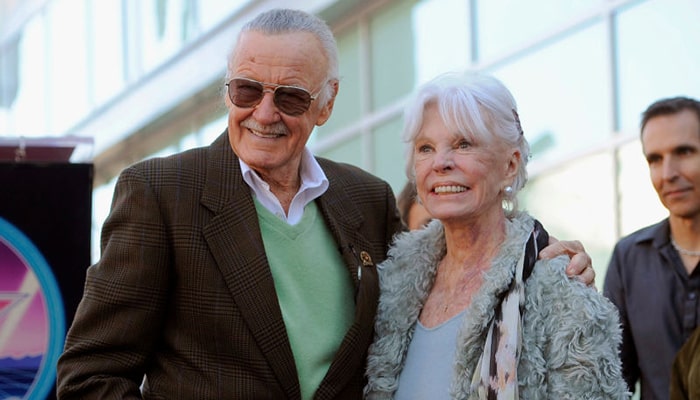 His charisma and creative ability influenced many later authors. Some of the characteristic features of his work are:
The humanization of the characters, beyond their superhero identity. To do this, he insists that all his heroes must have a weak point.
A grandiloquent and ornate language, which, in the case of articles and advertising texts, becomes between autoparodia and the circus.
It gave a great freedom of movement to its cartoonists, through the so-called "Marvel method": Lee made a synopsis of the story, which passed to the cartoonist, and then wrote the dialogues based on the finished drawing. In certain cases, this made it difficult to know what part of the story was from Lee, and what part of the cartoonist and what part was from the screenwriter.
He insisted on calling his characters with name and surname with the same initial letter (Peter Parker, Loki Laufeyson, Matt Murdock, Stephen Strange, Dum Dum Dugan, Fantastic Four, Doctor Doom, Curtis Connors, Bruce Banner, Scott Summers, Susan Storm, Reed Richards, Otto Octavius, Green Goblin, Silver Surfer, Warren Worthington, Pepper Potts, Fin Fang Foom, Happy Hogan and J. Jonah Jameson, among others).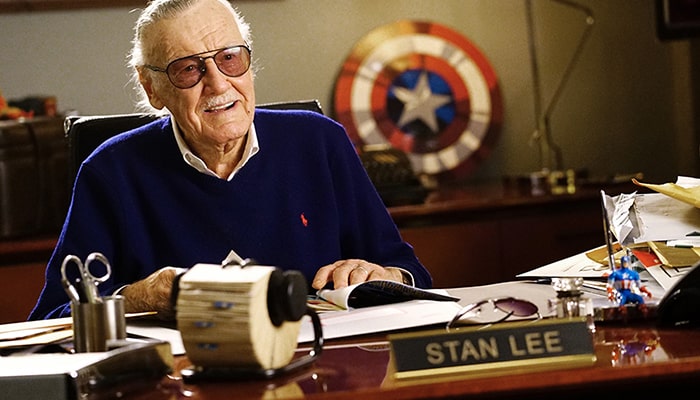 Your cameos in Marvel movies
Meanwhile, his role was not limited to creating with his pen great superheroes, but he has given the pleasure of venturing into the production and performance of all the characters he knew to create for Marvel and who went to the big screen.
Actually, what Lee has done on tapes like: X-Men, Daredevil, Spider Man, Hulk, The Fantastic 4, Iron Man, The Avengers, Captain America, among others, are cameos, that is, brief appearances of a person recognized in a movie, in which he represents himself or a character that may or may not be important in the plot, Lee's has been the latter case.
With the exception of X-Men 2, X-Men Origins: Wolverine, X-Men: First Generation, The Wolverine, X-Men: Days of the Future Past and The Fantastic 4, Stan Lee appeared in each of the Marvel movies based on characters whose creation he has collaborated on.
Stan Lee received a large number of awards for his work, including having been formally introduced in the Jack Kirby Hall of Fame en 1995. Furthermore, the 4 January 2011 Stan Lee discovered a star with his name on the Hollywood Walk of Fame.
Fuentes: